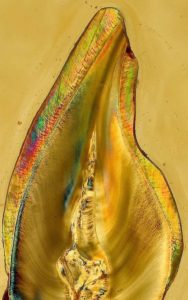 Principle
In Primero crowns light works the same way as in natural teeth, whereby the incoming light is reflected on the dentin-zirconia , and "the color is coming from within."  In 2Hue Color Dynamics the color is composed of the color of the dentin colored zirconia and the Primero Enamel porcelain. Where the thickness of the porcelain is 0.6 mm, which is normally at the central bucal area, the color is exactly A1, A2, A3, etc.  Because the distinct thickness is different at certain localities, the crown appears "individualized" in the same way as a natural tooth.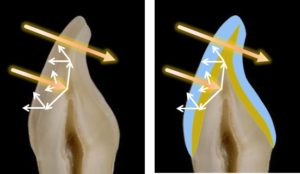 The build-up of a natural tooth is an enamel layer of average 0.6 mm thickness on a core of dentin. Light passes  through the translucent enamel layer and reflects and diffuses on the enamel and dentin. A Primero crown is build-up the same way and 2Hue Color Dynamics manifests the same optical phenomena to give it the appearance of a natural tooth.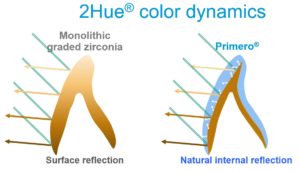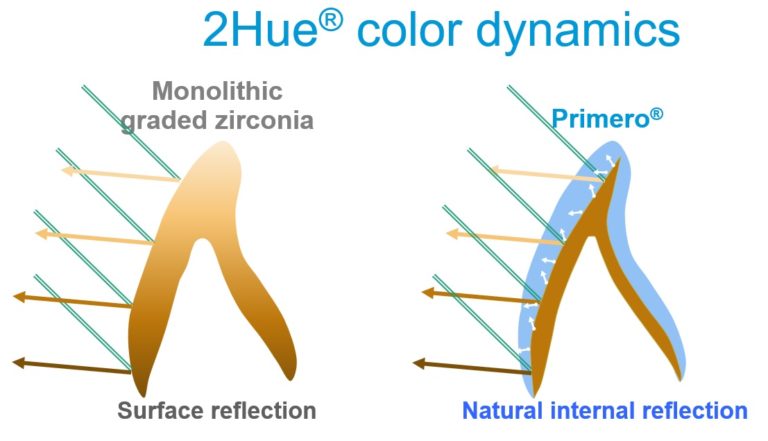 "Color from within"
Primero crowns reflect light the same way as natural teeth and don't have the "hard" reflection of monolithic zirconia. In

2Hue Color Dynamics

light is transmitted through the

translucent enamel

layer and reflects on the interface between translucent enamel and cervical shaded zirconia, so that the crown appears as the "color from within" with diffuse color gradients. 

The color of a tooth is a combination of the thickness of the translucent enamel layer and the darker dentin core. A Primero crown consists of a translucent Primero Enamel porcelain and a darker Primero Zirconia core. At 0.6 mm thickness the shade is exactly A4 and B1, at 0.3 mm it is more like "A4+" and "B2". This phenomenon causes color gradients by variations in the thickness of the porcelain layer in the same way as in a natural tooth the thickness of the enamel layer does.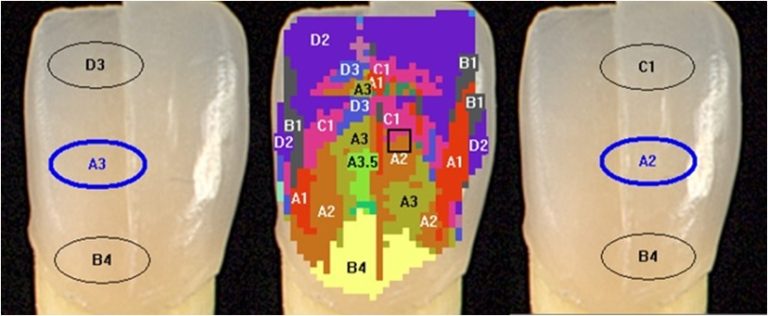 When the Primero Enamel thickness is 0.6 mm (right side) the shade is exactly A2, at 0.4 mm (left side) the shade is A3. The thickness of the Primero Enamel is thickest at the incisal and thinnest at the cervical area. This causes a natural color gradient D3-A3-B4 in left side (0.3 mm) and C1-A2-B4 in the right side (0.6 mm) of the Primero crown. 
DENTALXS.COM frequently does customer interviews, to get the opinion about the way the crowns and bridges are fulfilling the expectations of the patient.

Clarissa Wolman
"I have replaced some zirconia crowns with Primero crowns and they seem to blend in more naturally with my other teeth"

Lora Spielberg
"I like the way the new crowns blend in with the rest of my teeth. I do not understand much about the 2Hue idea, but it looks more natural than my zirconia crown, I had before"

Christopher Brown
"I have a Primero bridge on two implants, and they look very natural. I believe that the 2Hue principle has much to do with that"